Cutting Edge Eyecare
We constantly invest in new technology that will enhance the eye care that we deliver. By utilizing the latest in technology, we can ensure that our patients receive the best care for themselves and their families.
Optomap Imaging

Why Optomap ultra-widefield retinal imaging?

Your retina (located in the back of your eye) is the only place in the body where blood vessels can be seen directly. This means that in addition to eye conditions, signs of other diseases (for example, stroke, heart disease, hypertension, and diabetes) can also be seen in the retina. Early signs of these conditions can show on your retina long before you notice any changes to your vision or feel pain. While eye exams generally include a look at the front of the eye to evaluate health and prescription changes, a thorough screening of the retina is critical to verify that your eye is healthy.
Early detection is essential to reduce the risk to your sight and health
What is an optomap Image?
Getting an optomap image is fast, painless, and comfortable. Nothing touches your eye at any time. It is suitable for the whole family. To have the exam, you simply look into the device one eye at a time (like looking through a keyhole) and you will see a flash of light to let you know the image of your retina has been taken.
Under normal circumstances, dilation drops might not be necessary, but your eye care practitioner will decide if your pupils need to be dilated depending on the health of your eyes. The image capture takes less than a half-second and they are available immediately for you to see your own retina. You see exactly what your eye care practitioner sees – even in a 3D animation.
Optical Coherence Tomography
What is an OCT scan?
Optical Coherence Tomography (OCT) is an imaging technique that provides unprecedented high resolution and cross-sectional images of the eye. The OCT scan allows microstructures of the eye to be imaged and shows different color-coded layers of the retina. It is particularly useful in the diagnosis and management of eye conditions such as age-related macular degeneration, diabetic macular edema, macular hole, epiretinal membrane, vitreo-macular traction syndrome and glaucoma.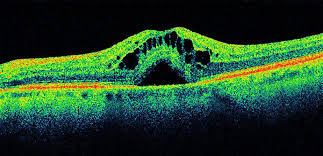 Digital Retinal Photography
Retinal photography assists in the detection and management of conditions such as macular degeneration, hypertensive retinopathy, optic nerve disease, diabetic changes and retinal holes or thinning.
By taking high-resolution pictures inside the eye, we can use a digital imaging system to record a detailed photo of the retina.
Corneal Topography
Corneal topography is a computer assisted diagnostic tool that creates a three-dimensional map of the surface curvature of the cornea. The cornea (the front window of the eye) is responsible for about 70 percent of the eye's focusing power. An eye with normal vision has an evenly rounded cornea, but if the cornea is too flat, too steep, or unevenly curved, less than perfect vision results. The greatest advantage of corneal topography is its ability to detect irregular conditions invisible to most conventional testing.
Corneal topography produces a detailed, visual description of the shape and power of the cornea. This type of analysis provides your doctor with very fine details regarding the condition of the corneal surface. These details are used to diagnose, monitor, and treat various eye conditions. They are also used in fitting contact lenses and for planning surgery, including laser vision correction.